batshit ass crazy!
she tapes this sign to her door every time she leaves and removes it every time she returns. this is particularly odd since only livia and crazy have access to this hallway.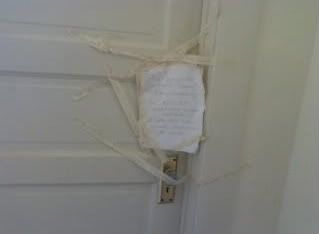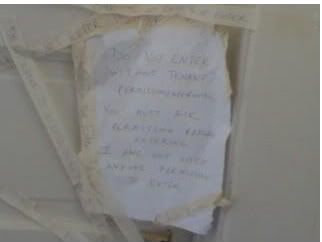 it says
DO NOT ENTER WITHOUT TENANTS PERMISSION/APPROVAL
YOU MUST ASK PERMISSION BEFORE ENTERING
I WILL NOT GIVE ANYONE PERMISSION TO ENTER
and the tape says DO NOT ENTER over and over again...
it also appears that she takes the lightbulb out of the hallway light every day and returns it at her own convenience. this may be because one night livia left the hall light on all night... OR BECAUSE SHE'S CRAZY...
after livia told me about the sign thing i saw one of the pieces of tape hanging from the inside entrance of the front door (though she tapes the sign to her own door upstairs) and i loled. then i took it and crumpled it up and threw it on top of the garbage pile that crazy calls the mailbox. then we left. today, livia heard crazy in the hallway and peeped through the peephole to see what was up. crazy was taking picture after picture of her own sign! i have concluded that she takes pictures of it everyday before she leaves and after she comes back to see if anyone has fucked with it. this is probably a direct reaction to me fucking with it...
more on this story as it develops.